Deburring cutter
When it comes to producing an exact chamfer, a deburring cutter is the right choice.
It requires precise programming, and the CAD-CAM systems sometimes don't meet the requirements.
We support you with a program with which you can set the positions of the milling cutter
at the apex and at the lower point of the intersection.
Click here for the contour program
Our deburring cutters have a very long service life and are ideal for materials that are difficult to machine, such as Stainless steel.
There are two versions. One only deburrs inner edges of the hole, the other can deburr both sides.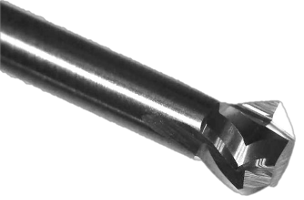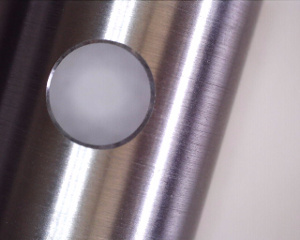 Cutters for the inner edge
| Typ | L1 | L2 | L3 | D1 | D2 | D3 | W1 |
| --- | --- | --- | --- | --- | --- | --- | --- |
| EF10 | 50 | 0.35 | 5.0 | 0.95 | 0.55 | 3.00 | 45 |
| EF15 | 50 | 0.40 | 6.0 | 1.40 | 0.90 | 3.00 | 45 |
| EF20 | 50 | 0.50 | 7.5 | 1.90 | 1.20 | 3.00 | 45 |
| EF25 | 60 | 0.70 | 9.0 | 2.40 | 1.30 | 3.00 | 45 |
| EF30 | 70 | 0.75 | 11.0 | 2.85 | 1.70 | 3.00 | 45 |
| EF40 | 80 | 0.90 | 14.0 | 3.80 | 2.40 | 4.00 | 45 |
| EF50 | 100 | 1.10 | 17.0 | 4.80 | 3.00 | 5.00 | 45 |
| EF60 | 100 | 1.35 | 20.0 | 5.80 | 3.50 | 6.00 | 45 |
| EF10_W25 | 50 | 0.60 | 5.0 | 0.95 | 0.55 | 3.00 | 25 |
| EF15_W25 | 50 | 0.70 | 6.0 | 1.40 | 0.90 | 3.00 | 25 |
| EF20_W25 | 50 | 0.90 | 7.5 | 1.90 | 1.20 | 3.00 | 25 |
| EF25_W25 | 60 | 1.35 | 9.0 | 2.40 | 1.30 | 3.00 | 25 |
| EF30_W25 | 70 | 1.40 | 11.0 | 2.85 | 1.70 | 3.00 | 25 |
| EF40_W25 | 80 | 1.70 | 14.0 | 3.80 | 2.40 | 4.00 | 25 |
| EF50_W25 | 100 | 2.15 | 17.0 | 4.80 | 3.00 | 5.00 | 25 |
| EF60_W25 | 100 | 2.70 | 20.0 | 5.80 | 3.50 | 6.00 | 25 |
Cutters for both edges
| Typ | L1 | L2 | L3 | D1 | D2 | D3 | W1 | W2 |
| --- | --- | --- | --- | --- | --- | --- | --- | --- |
| EF10_B | 50 | 0.60 | 5.0 | 0.95 | 0.55 | 3.00 | 45 | 45 |
| EF15_B | 50 | 0.75 | 6.0 | 1.40 | 0.90 | 3.00 | 45 | 45 |
| EF20_B | 50 | 1.00 | 7.5 | 1.90 | 1.20 | 3.00 | 45 | 45 |
| EF25_B | 60 | 1.40 | 9.0 | 2.40 | 1.30 | 3.00 | 45 | 45 |
| EF30_B | 70 | 1.50 | 11.0 | 2.85 | 1.70 | 3.00 | 45 | 45 |
| EF40_B | 80 | 1.85 | 14.0 | 3.80 | 2.40 | 4.00 | 45 | 45 |
| EF50_B | 100 | 2.30 | 17.0 | 4.80 | 3.00 | 5.00 | 45 | 45 |
| EF60_B | 100 | 2.85 | 20.0 | 5.80 | 3.50 | 6.00 | 45 | 45 |
| EF10_B_W25 | 50 | 0.85 | 5.0 | 0.95 | 0.55 | 3.00 | 25 | 45 |
| EF15_B_W25 | 50 | 1.00 | 6.0 | 1.40 | 0.90 | 3.00 | 25 | 45 |
| EF20_B_W25 | 50 | 1.40 | 7.5 | 1.90 | 1.20 | 3.00 | 25 | 45 |
| EF25_B_W25 | 60 | 2.00 | 9.0 | 2.40 | 1.30 | 3.00 | 25 | 45 |
| EF30_B_W25 | 70 | 2.15 | 11.0 | 2.85 | 1.70 | 3.00 | 25 | 45 |
| EF40_B_W25 | 80 | 2.65 | 14.0 | 3.80 | 2.40 | 4.00 | 25 | 45 |
| EF50_B_W25 | 100 | 3.35 | 17.0 | 4.80 | 3.00 | 5.00 | 25 | 45 |
| EF60_B_W25 | 100 | 4.20 | 20.0 | 5.80 | 3.50 | 6.00 | 25 | 45 |