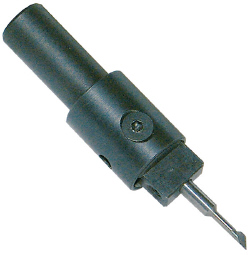 General description
This deburring tool was developed, in order to deburr inner drill hole edges in a simple manner.
In practice, it works very reliably and is in use by well-known companies.
It is possible to deburr either only the inside edge or both edges a single step.
The tool can be adjusted to any hole diameter from 0.8 mm up to 7.5 mm.
Cross-drilled holes can also be deburred easily.
The exchangeable blades are of carbid metal and have a long service live.
Using it in CNC machines, can save additional deburring operations and decrease the costs per part.
The method is protected in Germany under the patent number 103 57 404.
The advantages are:
deburring of very small holes, already from 0.8 mm diameter
ideal for the deburring in series production
configurable to any hole diameter from 0.8 mm to 7.5 mm
very fast deburring process
simple tool change
usable in every machine (ideal for use into CNC machines)
solid, slim design
simple handling
low costs because of exchangeable consumable parts